Office address
University of Stuttgart
Teaching and Learning with Intelligent Systems
Geschwister-Scholl-Str. 24 D, 3rd floor
70174 Stuttgart, Germany
Directions
By bus & train
You can use the tram lines U9 and U14 to the stop "Börsenplatz" or alternatively the bus lines 40 and 42 to the stop "Katharinenhospital".
By car
Follow the exit in the direction of Stuttgart Zentrum, Stuttgart main station, Friedrichstraße (B 27 in the direction of Tübingen), entrance Schellingstraße. Free parking space is available in Keplerstraße and the Hofdienergarage at the end of Schellingstraße. At the entrance Geschwister-Scholl-Straße you will find the parking garage City Garage APCOA. A small number of parking spaces are also available directly in front of the building.
From the main station
From the main station, you need about 10 minutes on foot. Follow Lautenschlagerstraße to Kronenstraße, then turn right to Friedrichstraße. Here you keep left and then turn right again directly into Geschwister-Scholl-Straße. At the end of Geschwister-Scholl-Straße turn right again into Keplerstraße. The entrance to building "D" is located in Keplerstraße/corner of Kriegsbergstraße.
Alternatively, you can take the tram line U9 or U14 from the main station (Arnulf-Klett-Platz) to "Börsenplatz" or the bus line 40 or 42 to "Katharinenhospital".
From the airport
The S-Bahn station at Stuttgart Airport is located on level 1 (signposted S). A ticket must be purchased before entering the platform. The orange ticket machines are located directly in front of the escalator. For the trip to the university/ city center area you need a ticket for 3 zones. You can obtain this by entering the code "003" on the keypad of the ticket machine and paying for the ticket by cash or card. Take the S-Bahn line S2 or S3 in the direction of "Hauptbahnhof" and get off at the "Hauptbahnhof (tief)" station.
Afterwards you can reach us either on foot, by bus or by tram. You will find the corresponding descriptions under the tabs "By bus & train" and "From the main station".
Contact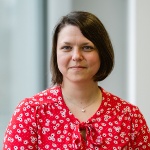 Maria Wirzberger
Jun.-Prof. Dr. rer. nat.
Professor for Teaching and Learning with Intelligent Systems | Spokesperson of the Stuttgart Research Focus IRIS | Co-Director of the AI Software Academy