Publications
Scientific articles

Wirzberger, M., Bornemeier, J., Kampel, S., Álvarez Serrano, M. G., Ullmann, L., & Rey, G. D. (2021). Umwelt trifft App: Verbindung virtueller und realer Welten in der Bildung für nachhaltige Entwicklung – Kurzbericht [Environment meets app: Connecting virtual and real worlds in education for sustainable development – Short report]. Umweltpsychologie, 1, 123–132.
Public engagement

Project team
University of Stuttgart
TU Chemnitz
Alumni
We are hiring!
Did our project spark your interest? Do you want to support us with software development?
We are currently looking for a research assistant to support the project. Here you can find the job ad.
We are looking forward to receiving your application!
Contact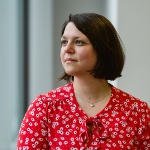 Jun.-Prof. Dr. rer. nat.
Maria Wirzberger
Professor for Teaching and Learning with Intelligent Systems | Spokesperson of the Stuttgart Research Focus IRIS