Scientific Work
Wirzberger, M., Bornemeier, J., Kampel, S., Alvarez Serrano, M. G., Ullmann, L., & Rey, G. D. (in press). Umwelt trifft App: Verbindung virtueller und realer Welten in der Bildung für nachhaltige Entwicklung [Environment meets app: Connecting virtual and real worlds in education for sustainable development]. Umweltpsychologie.
Public Relations
Alumni newsletter TU Chemnitz [PDF]
University of Stuttgart
TU Chemnitz
Kontakt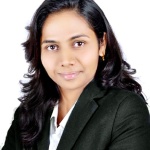 M.Sc.
Ankita Ghorpade
Research Assistant in the "BeeLife" Project